---
BARRY KIRWAN PH TH MIAPT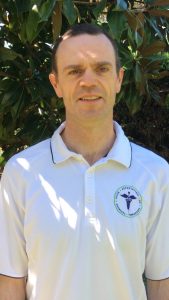 The physical therapy treatment clinic is managed by Barry Kirwan, Physical Therapist Dublin MIAPT and operates out of the therapy room in Profitness Gym in Churchtown. Barry specialises in physical therapy, myofascial release, prescription orthotics & rehabilitation programmes.
Your physical therapist Dublin graduated in 2007 from the Institute of Physical Therapy, the founding body of the physical therapy profession in Ireland and accepted centre of excellence in the teaching of manual skills and bodywork techniques. Barry is a full member of the Irish Association of Physical Therapists (IAPT). All I.A.P.T. members meet and adhere to the strict criteria and standards set down by the association. The I.A.P.T. places great emphasis on its duty to regulate the professional and ethical standards to it members and provides the highest standard of care to clients.
Barry worked fulltime as a physical therapist Dublin in Blanchardstown Medical Centre from 2007 to late 2012. There, Barry worked in close conjunction with the three resident general practitioners in the clinic. In his five years in Blanchardstown as a physical therapist Dublin, Barry was well respected by the GPs there, and had an impeccable reputation amongst clients for getting results. Since September 2011, Barry has worked in the therapy room in Profitness Gym in Churchtown, south Dublin. Barry is well regarded by his colleagues, and has a reputation amongst patients in helping them return to full health.
KEVIN HANNAFIN PH TH MIAPT
Kevin qualified from the Institute of Physical Therapy and Applied Science with distinction in 2015. He has a passion for bringing the latest evidence-based research to the practice and for providing clients with the most up-to-date treatment techniques and rehabilitation plans so that they make a full recovery.
Kevin is a keen sports man and understands firsthand the demands placed on players in competitive sports. He has experience working with both individuals and clubs and applies his unique insights from sport into the physical therapy practise to ensure patients return to the playing field faster, fitter and stronger than before.
Kevin is also part of the teaching facility with the Institute of Physical Therapy, a position he's held since 2015.